4 creative ways to deliver virtual fitness
Published by HealthFitness on March 30th, 2020
At HealthFitness our people are working from home where possible to serve employers and their employees during the COVID-19 pandemic. Here are four ways our fitness center program managers and instructors are delivering their programming remotely to keep employees fit and healthy.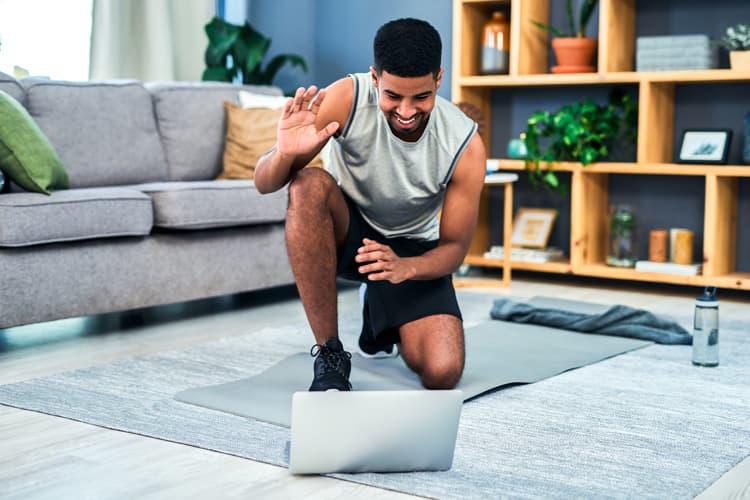 Healthy Recipe Guide
After seeing people flock to the stores because of the COVID-19 pandemic, Health and Wellness Coordinator Ashlyn Bundtzen created the SOS Meal and Recipe Guide to share with fitness center members at this leading auto parts manufacturer. The guide includes entrees and snacks containing five ingredients or less. The recipes are from the Mayo Clinic and fall within HealthFitness' nutrition guidelines.
"I know that many people, including my client's population, are confined to their homes, and food and meal options are limited," said Bundtzen. "I thought an SOS meal guide would be a great resource for members because all the recipes contain foods that one would have readily available in their pantry. There are 10 recipes in the guide and I intend to add more over the coming weeks."
The company's fitness center members can opt to receive the recipes via a distribution list that also includes daily home workouts, weekly mindfulness tactics and homework, and weekly nutrition tips.
Remote Bingo Challenge
In addition to workout-of-the-day videos and infographics, and wellness conference calls to engage employees working remotely, Program Manager Jessica Cravens came up with the remote BINGO challenge for employees at a national beverage manufacturing company. She shared the idea on the HealthFitness intranet where associates can share best practices on program design and how they are navigating the pandemic.
"We opened this challenge up to all fitness center members and the whole company while the working-from-home policy is in place," said Cravens. "This helps promote our workouts-of-the day and stretch breaks, but also aims to get members thinking about wellness as a whole with the 10K step challenge, drinking a gallon of water, and eating five servings of fruits and veggies."
Microsoft Teams
Sharon Daley
,
program manager at a large technology company in Newtown Square, Penn., and her colleagues decided to use Microsoft Teams rather than email to communicate with fitness center members during the pandemic. She created the "Work from Home Warriors" team and within 48 hours, 204 members signed up to join and 25 percent of them had already taken a live fitness class.
Daley streams the classes using her camera phone so members can see her. If members put the app on their devices, she can watch them and help with their form for yoga, circuit training or stretch. She teaches two classes a day and a stretch break. Daley plans to add a step class as well.
"It's so nice to be able to see their faces," Daley said. "They are so happy to be moving and seeing each other."
In addition to the Teams-based workouts, members can participate in a standard workout of the day on their own for 20 or 30 minutes.
Leveraging Webex
At a power management company in Moon Township, Penn., Program Manager Stephanie Seth Loy said she's doing everything over Webex for her 339 fitness center members.
"I put together a virtual group class schedule that was communicated to fitness center members as well to the entire site via a weekly newsletter. All of the classes are on a public Outlook calendar so any employee see the class and immediately access the Webex information," said Seth Loy. "I wanted to make it as easy as possible for employees to join in, knowing 99 percent of us are working from home with our Outlook emails readily available."
Seth Loy's classes include a mid-morning stretch break, bodyweight toning, cardio classes during the lunch hour, a mid-afternoon guided meditation, and an after work boot camp or yoga flow. She is also starting Wellbeing Wednesdays via Webex, in which she and the company's Health Promotion Specialist take 15 to 30 minutes to have talk with employees to exchange tips and ideas.
"The participation has been tremendous so far and after one week of remote classes, I'm averaging double the amount of participants per class as I usually do when in the office," she said.