Building strength and resiliency with fitness
Published by HealthFitness on July 26th, 2022
Sharon of Trustmark credits HealthFitness for helping her increase her strength, move more, and enjoy her life — including world travel.

Sharon was actually riding on a camel in Egypt when the global pandemic was declared in March 2020. "Thankfully, I was able to get a seat on a flight out of Egypt before the borders were expected to close," she says.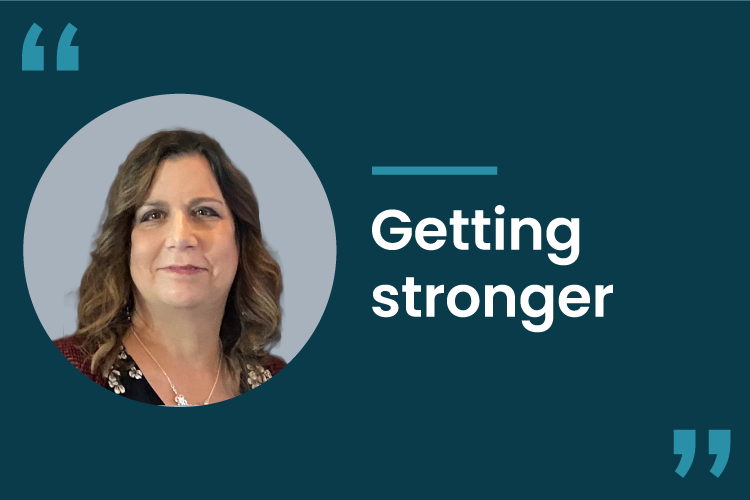 Embracing world travel—including camel riding—is only part of Sharon's approach to living life to the fullest. After beating breast cancer and recovering from several joint replacement surgeries, Sharon was already on her fitness journey when HealthFitness became the fitness center provider at Trustmark in 2010.

"Before HealthFitness started managing the Trustmark fitness center, I was taking advantage of what the current fitness center offered," she says. "When HealthFitness took over, everything excelled and I took advantage of all HealthFitness offered—from group fitness classes, to personal training, to educational seminars about nutrition and wellness, and having a health coach. My coach helps me overcome challenges, stay encouraged and learn to take small steps to reach big goals."

Avid at keeping active
Ingrid, HealthFitness program manager at Trustmark, says Sharon is a great testament to consistency and commitment to health and fitness. "If we're offering a program, Sharon is an active participant. She also engages with our staff and participants and provides valuable feedback," Ingrid says.

When Ingrid's team quickly pivoted in 2020 to deliver programming remotely to Trustmark's participants, Sharon quickly pivoted too—from enjoying live group fitness workouts online to using video conferencing tools for virtual personal training, and streaming online health education and nutrition classes right on her laptop and phone.

The shift to working from home has served as the game changer in Sharon's health and fitness routine. Sharon takes up to three virtual classes each day—from group fitness classes, to virtual personal training to mindfulness, nutrition and wellness classes—and she regularly meets with her health coach.

As a result, one year into the pandemic, Sharon is more resilient and stronger. "Honestly, HealthFitness keeps me going," she says. "HealthFitness has been one of the most important aspects of my mental and physical wellbeing while working from home. Without HealthFitness, I feel I would sit all day. Instead, I get up and move and see positive changes including a 20-pound weight loss."

Not only is she active with HealthFitness offerings, her increased strength and endurance allows her to keep moving outside of the HealthFitness programs, including water aerobics, dancing and walking. When one of the offerings was lunchtime walks, Sharon enjoyed her HealthFitness walks with her virtual coworkers as well as her two cats while they rode in a stroller. "I am the neighborhood cat lady," she laughs. "The stroller helped with my stability as I improved my strength from the joint replacements and the cats enjoyed their walks."

Getting stronger every day
Sharon's weekly virtual personal training sessions with her HealthFitness trainer, Jim, keeps her moving after knee surgery. "Jim tailors my sessions to fit my needs. With joint replacements I can't do a lot of floor exercises or yoga, so he modifies it for me."

HealthFitness has allowed Sharon to keep getting stronger in her health journey. "My journey has helped me to feel younger than my actual age," she says. "HealthFitness keeps me active. I look forward to traveling again while I am young, strong and can do it. HealthFitness helps me enjoy my life."

Learn more
Learn how Health Coach Erica taught Angela how to take small steps to support her overall wellness and boost her resiliency during her pregnancy and beyond.

Connect with us for a no-obligation meeting and to learn more about our health, fitness and wellness solutions.